We are very sorry for the earthquake that occurred in Kahramanmaraş and the surrounding provinces, causing loss of life and injuries. We share our condolences to the families and relatives of those who lost their lives, and wish a speedy recovery to the injured citizens.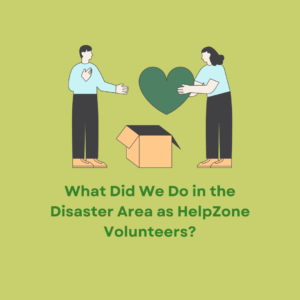 From the first day of the earthquake, as HelpZone volunteers, we did our best to help earthquake victims in the region. Let's take a look at what we are doing in the disaster area as HelpZone volunteers.
⭐ Since the first day of the earthquake, we have been preparing aid boxes containing diapers, baby food, clothes, food, blankets, hygiene materials and toys with our volunteers. We deliver these aids to the region through the ILO, ASAM and our volunteers.
⭐ With the close coordination we established with UCIM, we were able to donate a special food for babies with disabilities and those who are in the process of adaptation after the wreckage, and we sent it to our working partner in the field to distribute 3 pallet products.
⭐ We ensured that a lost baby found in Adana was delivered to his family.
⭐ We witnessed the birth of twin children of a pregnant earthquake survivor, whom we admitted to Ankara City Hospital, and we shared this happiness.
⭐ We supported families who migrated to Ankara from the earthquake zone to find a house and complete the necessary items.
⭐ We confirmed the information of many needy people in the field and were conveyed to the relevant authorities. We followed the procurement process of these needs.
⭐We contacted our international donors regarding their needs and started our coordination processes.
⭐ Thanks to our volunteers who visited the region, we had the chance to closely observe the needs of the region.
So why are we sharing them with you?
BECAUSE THERE IS MUCH MORE TO DO!
WE KNOW!
Our solidarity and work continues. You can be a part of this solidarity by joining us. Together we can discover what we can do together.
WE ARE SO STRONG TOGETHER!